/ The Solar Queen Academy is creating a pool of certified women to drive the clean energy transition in West Africa.
Bridging the gender gap in West Africa's renewable energy industry
By Samuel Ajala
Male colleagues once stepped in to stop Christianah Feechukwu from climbing the ladder on a job site in her local community. Not because it was dangerous; simply because she is a woman.
Unfortunately, such efforts to restrict what women do and how they do it is not uncommon in West Africa. And it is deeply relevant to empowering women through the clean energy transition.
"In another case, I was at a site in a rural area," recalls Feechukwu. "This place was quite traditional and a few of their rules mainly limited a female's activity. A female is not allowed to wear a trouser, nor is she allowed to go up a rooftop. I could bypass the trouser rule, but not that of the rooftop. Yet, I wasn't allowed to join my colleagues up on the roof."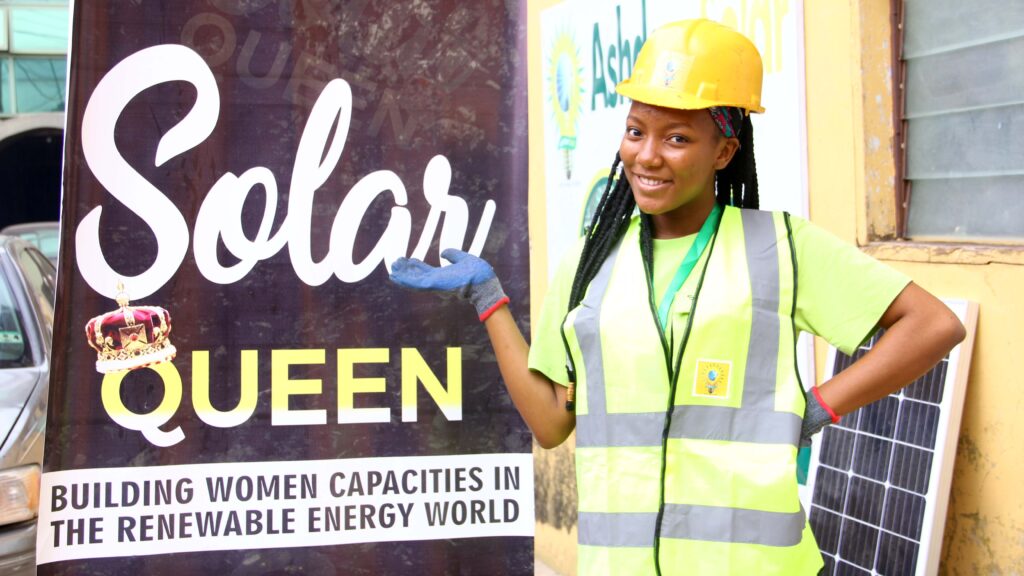 Later, while Feechukwu was lecturing some volunteers in the same community, things got worse. "One of the young guys there told me that I was a woman, and my job was to sweep and clean the environment. He said I can't even cut a cable, but I was doing it perfectly fine," she says.
Word of such experiences prompted Ashdam Solar Co. Ltd. and Ashdam Solar Academy to collaborate with Girls and Women Technological Empowerment Organisation (GWTEO)to launch, in 2020, the Solar Queen Academy.
"There is a general and societal belief about girls/women not being technically inclined, thereby narrowing female careers to specific job roles which results in lower income, low self-esteem, depression, stress, lack of economic growth and much more." says Damilola Asaleye, Chief Operating Officer and Co-Founder of Ashdam Solar.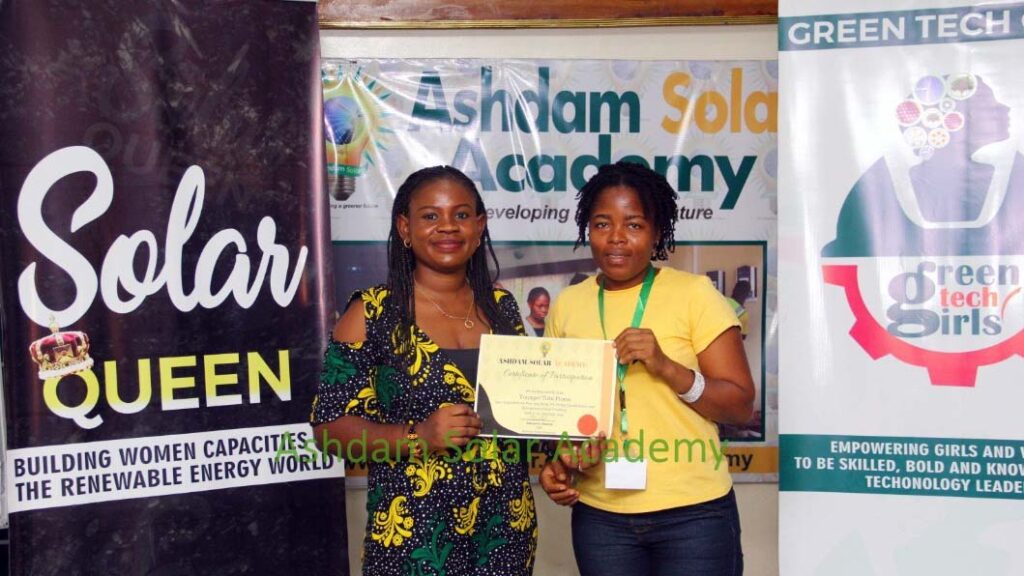 Together, the Company and the Academy aim to 'raise an army' of skilled entrepreneurs and engineers that will expand the market for renewable energy and advance the clean energy transition across Africa and beyond. Solar Queen focuses on building a workforce of competent women, by equipping them with the technical knowledge to promote clean energy solutions and providing mentorship to make them 'employment-ready' as solar installers and/or entrepreneurs.
And that explains how Feechukwu, who resides in Ore, Ondo State in Nigeria, found herself in a training programme with Youngor Flomo from Liberia, who has also faced gender discrimination in the renewable energy space. Flomo also comes from a culture that marginalises women – and also believes that climbing on rooftops is a male job.
"Many people at the facilities for which we do installation discourage you from work because of their mindset, thinking women only belong in the kitchen and childbearing," says Flomo. "The men sometimes make you feel like you cannot do the installation or take a course in STEM [science, technology, engineering and mathematics] careers."
Such attitudes, Flomo says, made it difficult to feel proud and confident of what she does. On a wider scale, they prevent her and others from developing their full potential and impede social and inclusive sustainable development.
Tackling the gender gap in renewable energy
Energy has historically been a man's world. Even today, in oil and gas, women make up just 22% of the sector – with the majority in administrative roles, according to International Renewable Energy Agency (IRENA). The report shows progress in the renewables sector, with women currently making up 32% of the global workforce.
Still, a significant gender gap is evident when one compares across STEM and non-STEM positions in renewable energy companies. Women show a stronger preference for being involved in clean energy through professional rather than technical roles, according to data from a recent report by the Renewable Energy Association of Nigeria (REAN) report:
Asaleye confirms that Ashdam also sees significant gaps in the participation of women and men in the renewable energy industry and in the access of women and men to technological knowledge bases. As such, the Solar Queen technical training programme is designed to ensure women develop skills and capacities needed across the sector. In turn, it creates a pool of trained and certified women installers that companies and organisations can 'tap into' to balance the gender divide in their own workforces.
Solar Queen helps women climb the clean energy career ladder
Since its inception, the Solar Queen programme has trained 118 women across 11 cohorts – mostly in the age range of 20-35 years, coming from Nigeria and Liberia.
Feechukwu and Flomo, who both graduated in 2020, confirm that it has been career- and life-changing.
During training, Feechukwu gained more knowledge on solar system sizing and installation. Based on outstanding performance, she was awarded a three-month internship and the GIZ examination seat pass after the training, which further built her knowledge and skills in both solar installation and entrepreneurship. She also volunteered to join the Ashdam Solar Company's technical team to install an Ashdam-owned mini-grid in a rural community. In her hometown of Ore, Feechukwu is now the owner of Primevolts Solar, which focuses on selling, distributing and installing solar-related products.
"I am now a GIZ/COREN certified solar engineer, also into solar entrepreneurship," says Feechukwu. "The Solar Queen Academy has been of great support to my career."
A key aspect of training for Flomo was learning how to do load calculations for solar system sizing to meet customers' needs, which she now applies when doing solar installations as a founding member of Women in Renewable Energy Liberia. She learned about the academy scholarship through one of her workmates, Robert Menworleh, who had previously travelled with the co-founder of Ashdam Solar Academy to Cape Verde to participate in solar thermal training.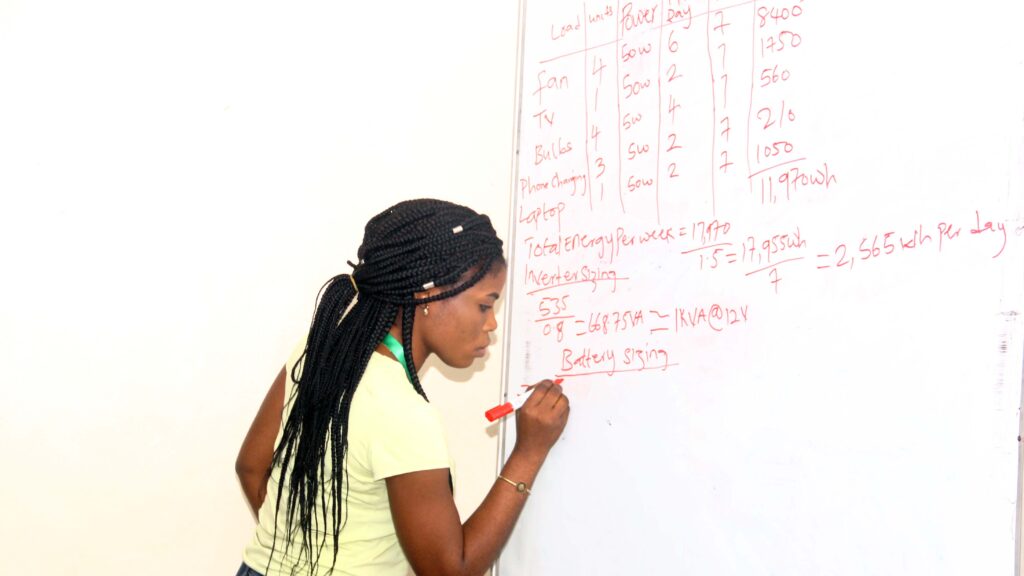 "The beginning of the training was a bit challenging because it was my very first time in Nigeria," says Flomo. "Interacting with others was a bit hard for me, but when I went through the training for two days, I became free to network with other women in training."
Across the cohorts, Solar Queen reports impressive success.
"Some 90% of our beneficiaries are employed across several value chains in the renewable energy industry," says Asaleye. "We have also seen some of the beneficiaries going ahead to train people in their communities on the skills they gained during the Solar Queen programme."
Both Feechukwu and Flomo feel better equipped on technical levels but admit that societal challenges remain. And for that, they are grateful for the personal boost they got from the Solar Queen Academy.
"As a woman in the team, I always encourage myself, even when the men are not encouraging me," says Flomo. "I tried to believe in myself and said to myself that I could make it despite being seen as someone of lesser importance on the team, but I always encourage myself that I can make it."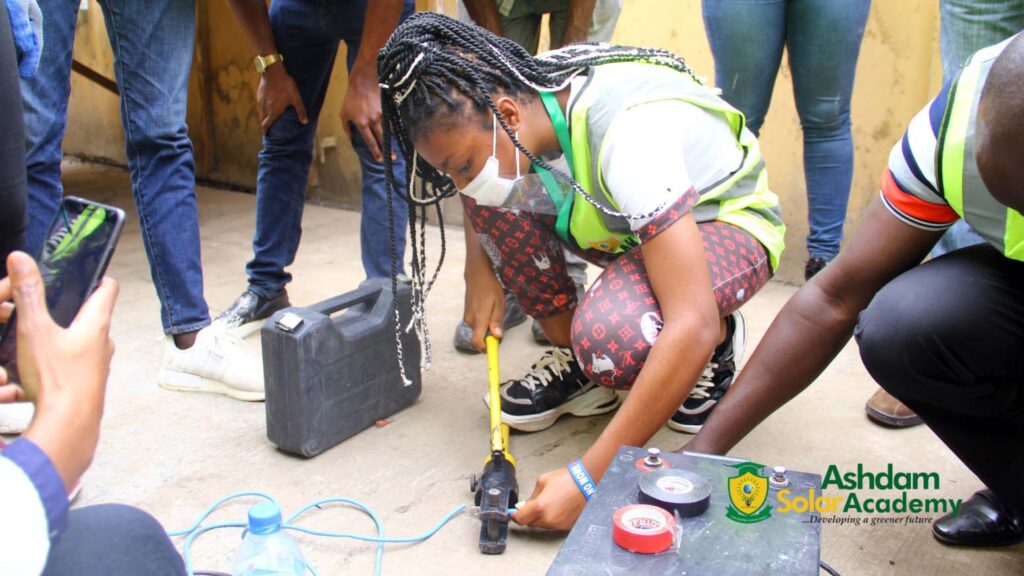 Clearly, Flomo adds, climbing jobs CAN be done by both men and women. She hopes to see the day when girls and women are actively encouraged by the men in the field, school and workplace.
Having demonstrated that the Academy breeds success, Asaleye is now keen to make the programme both bigger and better. "We wish to reach out to more women. We also wish to assist women to set up their renewable energy companies with relevant access to finance and technical assistance," says Asaleye. "So, we have a challenge of project finance."
Anyone interested in joining or supporting Solar Queen Academy can contact them directly at: https://ashdamsolar.com/academy/contact/
Connect with EnAct on social media channels: 
The ENERGY ACTION Project
EnAct is a project of ACT 4, a non-profit association registered in France (No. de Siret: 805 036 936 00013) that supports cultural initiatives that raise awareness of and engagement in social issues.
14 blvd Anatole France, 93300 Aubervilliers, France